---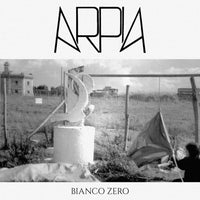 1990 Italian Doom / Prog Rock, their third demo. Recommended for fans of Paul Chain et al. 
Label Description:
After the second demo "Resurrezione e Metamorfosi", the absolute lyricism could not, at this point, have other evolutionary stages, therefore the next phase of transition towards more direct sounds and texts more adherent to reality, develops in a much shorter work entitled "Bianco Zero", which is much more matter of fact- stripping itself of all precursors, insinuations and starting points that would box the band into a specific lineage. A more brooding, heavier "Bianco Zero" doesn't need an hour to make the point, but resolves the expressions in 20 minutes. In the band's own words:


With "Bianco Zero" Arpia accomplishes a real revolution which, from the heights of the tragic "de lusioni", passing through the complex transformation of "Resurrezione e Metamorfosi", descends into the horizon of reality, into "bianco" and "zero" of the flesh, of the act and of the choice. Composed and recorded in 1989, the year of discrimination of the Twentieth century, it represents a real act of challenge and opposition to the trends already present from the beginning of the eighties and which will lay the foundations for what we still define as the era of globalization and the commodification of art and culture. In this sense, the reassertion of the Italian language within the classic-progressive structures of Doom, in an attempt to recover the song form in a personal way, lays the foundations of what will be the subsequent developments of the line undertaken with the release of the first official album of the group: "Liberazione," released in the mid-nineties, in a drastically changed cultural and musical context.
With "Bianco Zero" closes the triad of compositions born in the crucible of the Italian rock and underground movement of the Eighties, recorded independently and captured on the poor original support of the cassette. The restoration and publication on vinyl of these works today has the merit of recovering and bringing to light a world apparently submerged but still extremely alive and fertile in developments in a moment, such as the present one, which appears more and more clearly as the junction of a epoch.