---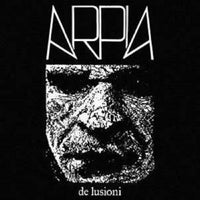 Sale
Obscure Italian doom metal with prog overtones. Essential for Italian doom fanatics, highly recommended for fans of Paul Chain and Dark Quarterer.
6 panels digipak CD with matte lamination. Released by Unseen Forces and Boomland Records

Label write up:
Formed in Rome in 1984, this is a newly mastered release of ARPIA's first demo tape from 1987. "De Lusioni" is comprised of 7 songs -clocking at 71 minutes- which the band has described at an "experimental demo but of rich forms and ideas later developed in a more organic way."
The massive reverb on the vocals and guitar on the opening track, "1783," immediately reminds one of Paul Chain. Some songs find the band dropping into the experimental/theatrical realm with vocals that sound intoned and spontaneous. They tend to soar over the music, not quite sung, not quite intoned - but some neither/neither world in between the two. The organic nature of the compositions and performance comes to mind as a way to relate the overall impression of the recording that somehow draws a comparison to Velvet Underground. Yes, that fueled with a heavy dose of Paul Chain / early Death SS with brief hints of 70s Italo Prog would adequately convey the mood of the music herein: hypnotic and rhythmic. There are darker, moodier moments, and some longer expressive passages, allowing one to get lost in the mood created by the eerie, otherworldly guitar work. In the band's own words:
"De lusioni" is really our origin and the result of a real fervor around the expressive core that we had been defining during those years. Even if this may seem paradoxical, the corpus of songs that compose it still makes it the living heart of our musical experience, so much so that, thirty-five years after its release, this restored reissue forces us today to consider the relevance of a 'work then held stubbornly out of date. This crossing of time is testimony to a mystery that is renewed and questions us about the place from which our music really comes and what it is really destined for."
Tracklist
1 1783 8:20
2 Aborto 17:30
3 Esaltazione 2:45
4 Ambigo 6:45
5 La Mascherata Della Morte Rossa 20:15
6 Mistero 12:50
7 Patetica 2:00