---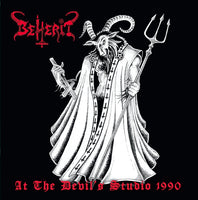 Sale
This is the official BEHERIT debut album, recorded back in 1990 in Ala Ky Studio, Rovaniemi. Mastered 2010 by Joona Lukala, Noice For Fiction. The recordings disappeared for 20 years, until found by Sodomatic Slaughter from his personal collection in 2010. This album includes two TOTALLY UNRELEASED tracks and the rest are totally different versions you haven't heard before. Nuclear Holocausto Vengeance and Sodomatic Slaughter recorded this as a duo - live in the studio.
"The Oath of Black Blood" is a compilation of a demo and 7"EP.
"At The Devil's Studio 1990" is the REAL debut album!
Tracklist:
1. Rehearsal
2. Grave Desecration Vengeance
3. At The Devil's Churns
4. Nocturnal Evil
5. Whores of Belial
6. Witchcraft
7. The Oath of Black Blood
8. Six Days With Sadistic Slayer
9. Demonomancy