---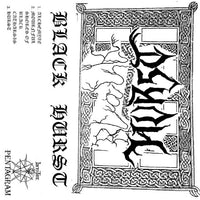 Great debut demo of this US based Necro Metal band. Old school nasty sound, not for twerps and wimps. Description taken from Rites of Pestilence:
https://blackhurstbm.bandcamp.com/album/demo
First offering from this new New York-based Black Metal sound, however whose influences sound like nothing from this century.
Excellent doomy, pagan Black Metal primeval darkness, harnessing on the same deathly currents of inspiration as primordial and timeless acts such as Master's Hammer, Mortuary Drape and I'd say Varathron even, with supreme mastery, conjuring 17 minutes of atavistic and bizarre calls for the grave and occult obsession.
Terrific first demo, which should also please fans of some more recents acts like Tyrannic, Negative Plane or Ceremonial Torture.
Into the Pentagram