---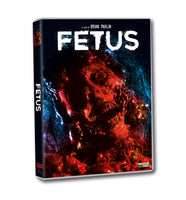 Sale
Feral Heart Productions is now carrying titles from Massacre Video, a respected distributor of underground and cult horror and exploration films.
"Overwhelmed and isolated by grief, Kevin loses his grasp of morality as he struggles to hold onto the memory of his wife Sara and their baby. Out of desperation he turns to the occult, where ritualized torture devolves beyond the reaches of reality into an insane abyss of ultimate evil.
Massacre Video is proud to present Fetus, a bleak and bloody barrage of gruesome depravity and abhorrent ingenuity from infamous video gore auteur, Brian Paulin (Bone Sickness, Cryptic Plasm, Blood Pigs), completely uncut and uncensored."
Special Features
-English Captions for the Deaf and Hard of Hearing
-Reversible Cover
-TWO Audio Commentaries
-Newly Recorded in 2020 Audio Commentary with Director Brian Paulin, George and Joe Olsen
-Original 2008 Audio Commentary
-Banned Original Trailer
-The Origins of Fetus (2020)
-Behind the Scenes (2020)
-Future Gore (2008)
-Making of Fetus (2008)
-Trailers for Other Massacre Video Releases