---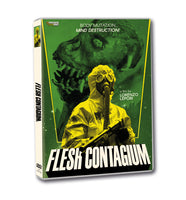 Sale
Feral Heart Productions is now carrying titles from Massacre Video, a respected distributor of underground and cult horror and exploration films.
"
The year is 2029. A horrible flu virus has devastated the planet leaving the global health infrastructure in ruins and leading to the creation and rise of hideous mutants. All large cities are now extermination camps and the new government, called "The Executors", are in charge of eliminating these ghastly abominations. Survivors are left to fend for themselves, taking refuge in the most remote of areas, but a special team of "Executors" have been formed to find the survivors and eliminate them with no mercy.
Massacre Video proudly presents Lorenzo Lepori's FLESH CONTAGIUM, written during the first Italian lockdown and in the vein of cult filmmakers Jess Franco and Bruno Mattei, FLESH CONTAGIUM is a gory throwback film that fans of cult and exploitation will appreciate."
Special Features
-Reversible Cover
-Making Flesh Contagium – Interviews with Antonio Tentori, Lorenzo Lepori and Alex Visani
-Basement's Glare – Rise of the Enlightened Music Video
-Original Trailer
-Stills Gallery
-English Captions for the Deaf and Hard of Hearing
-Trailers for Other Massacre Video Releases