---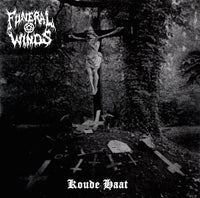 Sale
2000's classic of pure cold hatred!!! Dutch black metal.
Koude Haat is the second full length studio album by Funeral Winds. It was released on CD and LP on February 13th in 2004 by Death To Mankind Records.
A CD reissue of the 'Koude Haat' album is available now! (14-4-2020) Released by Necromanteion in conspiracy with New Era Productions.

Koude Haat (Cold Hatred) is the purest form of hate. A hate that (unlike fiery and passionate hate) never grows weak and fades. Nesting in the heart and mind of the person that carries it. Waiting for retaliation at all costs. Growing stronger day by day.
Cold Hatred remains with the dedicated. Until devastation is complete...
IN THE NAME OF XUL !
New Era Productions