---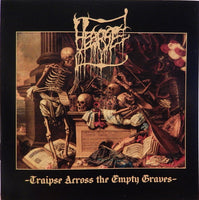 The long slumbering beast known as Hearse returns with a modern class of Death Doom Metal. After a duo of demos from the late 90s, Cazz Grant (Crucifer, ex-GBK) delivers the band's debut full length album.
Label Description:
SINISTRARI RECORDS presents the debut full length album of HEARSE feautring Ordog and The Black Lourde of Crucifixion. Funeral doom metal groans from a coffin-birth!!!
The area around Chester, Pennsylvania and Wilmington, Delaware is not only known for its industrial wasteland, racketeering, gambling and prostitution. It is also where the funeral doom band HEARSE was given a painful coffin-birth. Underneath the mechanized noise of shipbuilding, the manufacture of iron beams and boilers, and the production of bricks and chemical dumping sites, comes the sound of HEARSE's funeral doom metal.
Sinistrari Records