---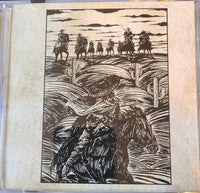 2021 mini album from Maquahuitl. 
"Con Su Pistola en La Mano" is a concept release going through the journey of Mexican outlaw Gregorio Cortez who evaded 300 Texas Rangers after killing 2 Sheriffs in self-defense. Becoming a local folk hero and legend in the Texas/Mexico border area.

This EP is his story.
Darker Than Black / Winter Solace