---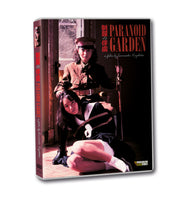 Sale
Feral Heart Productions is now carrying titles from Massacre Video, a respected distributor of underground and cult horror and exploration films.

In Japan, during the waning days of WWII, recent widow Noriko clings to her husband's family after he is killed in battle. But that familial love is quickly replaced by more forbidden urges, and the bonds between them turn physical. Yet there is another secret hidden in this home, one that in a time of war could bring great shame and place all of their lives in peril. A taboo tale that questions notions of love, loyalty and death.
Massacre Video is excited to present PARANOID GARDEN, the first AV film from legendary director and death photographer Tsurisaki Kiyotaka (OROZCO THE EMBALMER, JUNK FILMS, THE WASTELAND) for the first time anywhere outside of Japan, totally uncut and in it's original form!
Special Features
-Brand New Transfer from the Original DigiBeta Master
-Newly Created English Subtitles
-POWs in Uniform: Interview with Tsurisaki Kiyotaka
-Stills Gallery
-Trailers for Other Massacre Video Releases