---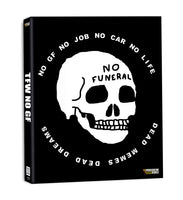 Sale
Feral Heart Productions is now carrying titles from Massacre Video, a respected distributor of underground and cult horror and exploration films.
Born of anonymous online message boards, TFW NO GF (That Feeling When No Girlfriend) was initially used to describe a lack of romantic companionship. It's protagonist, WOJAK, has become a mascot to this vast online community of "hyper-anonymous twenty somethings," spawning countless memes and coming to symbolize a state of existence defined by isolation, rejection and alienation. TFW NO GF presents an intimate portrait of these young men, who have come of age on the internet, and now find themselves navigating a new form of loneliness unique to the digital age.
STRICT LIMIT OF 1000 SLIPCASED UNITS.
SPECIAL FEATURES:
-Limited Edition Slipcase
-Brand New Commentary with with director Alex Lee Moyer, stars Charels and Viddy with Special Guest Egg White
-Uncompressed PCM Audio
-English Captions for the Deaf and Hard of Hearing
-Original Trailers
-Extensive Stills Gallery
-Trailers for Other Massacre Video Releases
REGION ALL/0