---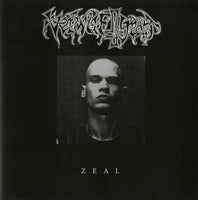 US Black Metal hatred sourced from the forgotten heartlands. Features a hardcore techno song on the B side.
Endangered Species 
Label Description:
Ultra rural USBM with a half-time psychonautic nightmare produced by DJ Baphometh on the B-side. Nothing fashionable here.
"Zeal" is the first vinyl release from Muncie, Indiana based Verwulf Tyrant and was originally released on CD-R by Verboten Front Vinland in limited quantities.
This 7" is strictly limited to 200 hand-numbered copies. Includes insert and sticker.